RefWorks: Write-N-Cite (Mac)
RefWorks is a citation manager that is free for UNC students, faculty, staff, and alumni. Find out how to start using RefWorks to cite your papers and projects.
Overview
On this guide we will cover:
Downloading Write-N-Cite

Installing Write-N-Cite
Using Write-N-Cite
Using RefWorks to format your papers without Write-N-Cite
How do I download Write-N-Cite?
RefWorks recommends uninstalling any previous versions of Write-N-Cite before installing the new version. For instructions on how to uninstall, click here.
Write-N-Cite can be downloaded from within your RefWorks account. Select Tools on the main menu, then choose Write-N-Cite.
A window will open allowing you to download Write-N-Cite.
Do not close out of this window just yet. You will need the login code from that screen to sync your Write-N-Cite toolbar to your RefWorks account.
How do I install Write-N-Cite?
Key steps to installing Write-N-Cite on Macs
Once you've downloaded Write-N-Cite for your computer:
Be sure to close out of all Microsoft Office applications (Word, Outlook, Excel, etc). If you're unsure if you've completely closed out of the Office applications, select each one and press ⌘Q. Now open the installation file.
You should be able to click through the prompts and have it successfully install. This will require opening the downloaded file, then opening the install file inside it.
One potential problem for Mac users is that they need to either install or update Java. If you need to do so, then do so from Java's website here.
Users of Yosemite (10.10): If you get a prompt that Java needs to be installed despite you installing it from the link above, you may need to install Java using this link from Apple.
Occasionally, the Write-N-Cite toolbar will not show up after being installed despite going through the proper steps or even stop showing up despite it working previously. If this happens, you may need to enable the Write-N-Cite toolbar. To do so, click on View, then select Toolbars and make sure Write-N-Cite is enabled (it may be named Write-N-Cite or Proquest):
You may need to restart Word or possibly even your entire computer for these changes to take effect.
Additionally, some users have had problems where the Toolbar does show up, but when they click on the Login button, nothing happens. To remedy this, you need to click on Word then select Preferences. In the Preferences Menu, select File Locations. In the File locations menu, select the Start-Up entry under File Types and select Modify. You may need to change that folder to Applications/Microsoft Office/Startup/Word/ so that the Write-N-Cite add-on's location is detected by Word.
Once you've done this, completely close Word and open Word again. If you need further instructions on doing this, click on the PDF at the bottom of this box labeled WNC Mac Instructions.
If you encounter any other errors that prevent you from installing Write-N-Cite, use the email form on the left side of our AskALibrarian page to set up a time for us to sit down with you and your computer so we can diagnose your issue. Before doing that, be sure to
Uninstall any previous versions of Write-N-Cite
Restart
Try re-installing Write-N-Cite.
I don't see the toolbar! What do I do?
First, try closing out Word completely and restarting it. If the toolbar still isn't showing, check to make sure the Write-N-Cite toolbar is enabled in MS Word for Mac. To do this, go to View --> Toolbars, and make sure Proquest has a check beside it.
How do I use Write-N-Cite?
Once you've successfully installed Write-N-Cite, it should show up as a toolbar in the upper left corner of Word as shown below.
The first thing you need to do it link your Write-N-Cite toolbar to your personal RefWorks account. To do so, click on Log In (it is the button with the arrow beneath it above) and paste in the login code from your RefWorks account into it.
If you've already closed out of your RefWorks account, do not worry, you can re-access it by logging in to your RefWorks account, clicking on Tools, then on Write-N-Cite, then it ought to display. It'll look like this, except not blurry:
Paste that code into the log in box that will pop up like so:
It may take a few minutes to sync your account, especially if your account has a lot of citations in it. But once that is done, you can use all of Write-N-Cite's features to properly format your paper.
Introducing the Write-N-Cite Toolbar in Word
Unfortunately, the Write-N-Cite toolbar for Mac is not as self explanatory as the toolbar for PCs, but the buttons work similarly.
Insert Citation: Will insert a citation from your library.
Style: Will format your citations and bibliography according to whatever citation style that you need to use (e.g. APA, AMA, Uniform Requirements, etc). If you need to format a custom style, look at our brief outline here for suggestions or ask us for help.
Bibliography: Will insert, remove or format a bibliography from the citations that you've inserted into the document.
Sync My Database: Will sync your toolbar to include any changes you may've made to your references in your RefWorks account or will include any new references that you've added since you last synced your
Remove Field Codes: Will remove the link between the document and your RefWorks account. This is typically done before submitting a paper to colleagues for revision, before submitting a paper to a professor for a grade, or before submitting a paper to a journal for submission. This step is irreversible. You may want to save a copy of the paper with field codes (e.g. final_paper-field_codes.docx) and one without field codes (e.g. final_paper-no_field_codes.docx) so that you can easily revise the paper down the road. RefWorks will prompt a scary warning before you do this.

Preferences: Will allow you to do a variety of things like switch to another account (which is helpful if you have an account setup for a group project) or convert from a previous version of Write-N-Cite.
When you click on the Insert Citation button, a window will pop up which will allow you to search for citations in your personal RefWorks account. There are a few advanced features that need to be mentioned.
You can add multiple citations to a sentence using the Plus button in the citation window. It is highlighted in red below

When using a non-superscript citation style, you can use suffixes to denote page numbers if that is required. To do so, when inserting a citation, add a comma and the page number in the style of your choosing and Write-N-Cite will include that information.

What if a citation looks weird in my document?
When you are scanning through the citation window, you may notice some citations look a bit funky, like this:

Or perhaps you have inserted a citation, but it looks weird in your bibliography, like this:
In either case, the citation is poorly formatted in your personal library. In the Eisner example, it's a journal article with a URL in the reference. Since journal articles do not typically require URLs, this reference needs to be edited.
You can manually remove the "Retrieved from" part from the reference, but if you were to close out of the document and open it again, Write-N-Cite will try to reload the reference information from your account and revert back to the improper formatting.
This is why is it important to review the citations that you import as you import them. If something looks wrong in your RefWorks account, it will likewise look off when you later cite it. To remedy this, you need to edit the reference in your library. To follow these steps:
Load up your RefWorks account
Search for the troublesome record
Make the appropriate edits
Save the record
Sync your database in Write-N-Cite
Reapply output style
Once you've done this, your troublesome reference will magically transform!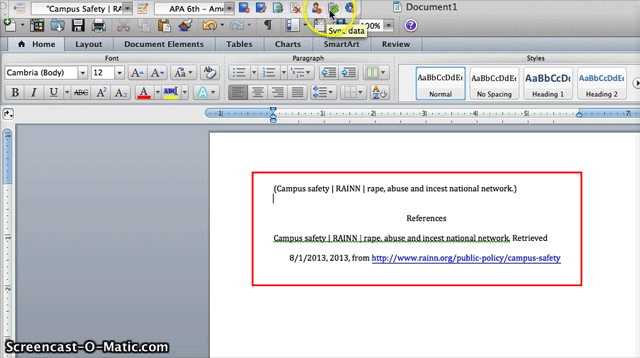 I'm having problems with my citations staying in superscript!
There is a known issue with Write-N-Cite when you switch from a superscript citation style, like AMA, to a non-superscript citation style. When this occurs, it will look something similar to this:
The easier way to remedy this issue is by selecting all the text in your document by pressing ⌘ (command) and the A button (Mac) then right click over the selected text and click on Font. Like so:
Now you can de-select the superscript option and click OK, like so:

Write-N-Cite is giving me errors. What can I do?
If Write-N-Cite keeps giving you specific errors, check out HSL's Ask a Librarian Write-N-Cite directory. Here, you can find responses to errors that are most common to Write-N-Cite users. This is a great first place to look to see if you can get a quick and easy fix.
For Windows users and if you're getting an error message saying "without logging into RefWorks Write-N-Cite functions are disabled" , you can try deleting the Write-N-Cite log files in the Write-N-Cite or Proquest directory located in C:\Users\<Your User Name>\AppData\Local . They'll be named some variation on wnc.log.0 or pq.log.0. For Mac users, it'll be located in ~/Library/Application Support/RefWorks
Are there other ways to use RefWorks to cite papers?
There are three other ways to create bibliographies & in text citations from RefWorks:
Use the One Line/Cite View to cite references. You can use the "One Line/Cite View" while logged into RefWorks on your web browser. You can access this option from the "Switch to:" menu at the top of your RefWorks library. This method is recommended if you are having trouble using Write-N-Cite.


Create a Reference List. Create a formatted bibliography from your RefWorks library on the web.


Use RefWorks to format your paper. You can upload your paper with citations into RefWorks to format your paper online. This page also explains how to add footnotes and endnotes to your paper.


I've tried all of these, but Write-N-Cite just won't work!
Don't dismay!
Contact HSL RefWorks Experts by sending an email through the Ask a Librarian service to set up a consultation.
If all else fails, you can contact RefWorks' Technical Support by emailing them at support@refworks-cos.com or calling them at (775) 327-4105. RefWorks support requests that you send the wnc.log.0 log file located in:
Windows XP: C:\Documents and Settings\<User Name>\Local Settings\Application Data
Windows 7 or 8: C:\Users\<User Name>\AppData\Local (for Windows 7 or 8)
Mac: <User Name>/Library/Application Support/RefWorks
On newer Macs (10.7+), it may be necessary to show the Library directory because it is hidden in the Finder. Launch Terminal from Spotlight or Launchpad > Utilities, and enter the following command to show the directory: chflags nohidden ~/Library/

Or, you may select Command+Shift+G from the Mac desktop (or Finder > Go > Go to Folder) and type in ~/Library to temporarily access the Library directory in the Finder.
Uninstalling Write-N-Cite for Mac
If, for whatever reason, you need to uninstall Write-N-Cite for Mac, here are the steps:
Open a new Finder window by clicking the Finder icon in your dock menu (the little blue face).
Open your Applications folder by clicking on the "A" icon along the left-hand side of your Finder window.
Locate Write-N-Cite in your list of applications.
Click and hold the Write-N-Cite program from this window and drag it into your Trash icon in your dock menu.
To empty the files from your Trash and delete them permanently, hold Ctrl while clicking on the Trash icon. This will bring up a new menu. Select "Empty Trash."
Restart your computer to make sure the change is complete.