If an article search indicates we don't have an item:
1) Click the
button.
2) If available, click an article link, if not, click the journal link.
3) Can't find it? Request it from another library through Interlibrary Loan.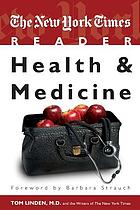 This page provides links to important Medical Journalism resources for the study of JOMC 560 at UNC's School of Journalism and Mass Communication with professor Tom Linden.
Check out ...
Finding Articles -- Search for scholarly and news articles, broadcast and other popular news coverage


Health Info & Statistics -- Find national and statewide health-related data, links to more resources



image from oclc
Stephanie Willen Brown
Contact Info
Park Library at UNC's School of Journalism & Mass Communication, Carroll Hall
(919) 843-8300
Send Email
The Park Library is supported by the School of Journalism and Mass Communication. Read more about our mission or about Roy H. Park.
We welcome the use of our collections and services by all students and researchers.