Today's Papers in the Library
We get four daily papers in the library - read them here!
America's News (N.C.)

Over 1,200 U.S. newspapers including 54 NC newspapers such as

Includes some N.C. local television news programs.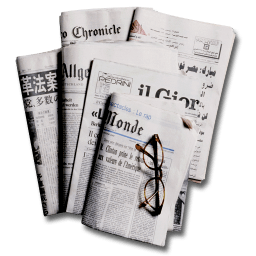 This page provides links to important Reporting resources for the study of JOMC 153, all sections of News Writing at UNC's School of Journalism and Mass Communication.
Check out ...
Finding News & Sources -- Find newspaper articles from local and national news outlets & identify potential sources


NC Resources -- Demographic, statistical, crime, education, government, and other data about NC


JOMC: Usage & Grammar Test - links to dates and resources for this important graduation requirement
Use this to find trade journal articles online:
For journalism, browse:
American Journalism Review
Columbia Journalism Review
Editor and Publisher
News Photographer
For advertising or public relations, browse:
Advertising Age
Adweek
Broadcasting & Cable
PRWeek
Recent issues of all of these magazines are in the Park Library.
Stephanie Willen Brown
Contact Info
Park Library at UNC's School of Journalism & Mass Communication, Carroll Hall
(919) 843-8300
Send Email
The Park Library is supported by the School of Journalism and Mass Communication. Read more about our mission or about Roy H. Park.
We welcome the use of our collections and services by all students and researchers.