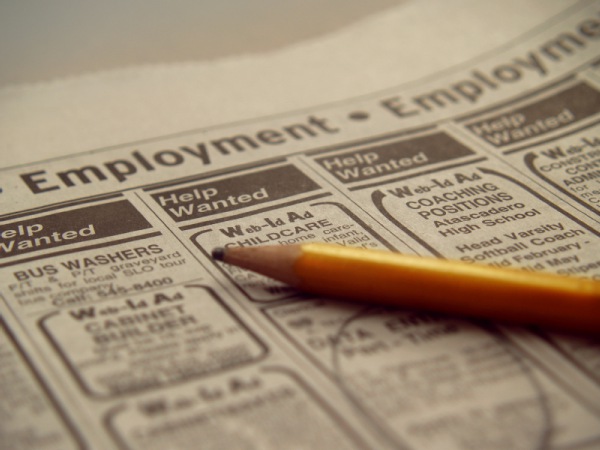 This guide is designed to help you with your coursework in PLAN053: The Changing American Job.
The selected data sources, research & writing guides, article databases, and search tools provide access to resources available from the University Library. General, economic, and employment-specific information is provided.
Image courtesy of the Gotham Gazette
CareerOneStop: From the U.S. Department of Labor, this site enables comparisons of wages in different metro areas, as well as within local areas with other, similar occupations. In addition, it provides employment trends (projections) nationally and by state. Note: This is an aggregator site, presenting information from a variety of sources. Be sure to include their original source (BLS, Employment Security Commission, etc.) in your citation!

mySkills myFuture: A service provided by CareerOneStop, this site allows job seekers to explore careers that match their current careers, compare the skills required for one career versus another, and explore the skills and training necessary for careers of interest. Results can also be filtered by location, allowing for comparisons of wages and certifications in different geographic areas.
O*NET OnLine: The Occupational Information Network (O*NET) program is the nation's primary source of occupational information. A good tool for exploring possible careers, the Skills Search area allows you to select skills that characterize you and then matches them with those needed for various occupations. While O*NET OnLine offers a variety of search options and occupational data, My Next Move is a streamlined application for students and job seekers. Job seekers use these sites to:
Find out which jobs fit with their interests, skills, and experience
Explore growth career profiles using the latest available labor market data
Research what it takes to get their dream job
Maximize earning potential and job satisfaction
Know what it takes to be successful in their field and in related occupations
Occupational Outlook Handbook: Includes job search tips, links to information about the job market in each state, as well as providing the following information about hundreds of jobs. Be sure to see the outlook section of a given report for information about the future prospects of your chosen industry.
The training and education needed
Earnings and earnings potential
Expected job prospects
What workers do on the job
Working conditions
IBISWorld Industry Reports: A source for industry surveys. Users can download reports as Word files, making it easy to capture quotations (be sure to cite them!). Each report includes a "recession update" section with very recent impacts.
Industry Market Research >> Find your industry by keyword, major company or code >> Search by occupation, industry, or both
NetAdvantage: A good source for industry surveys, though only helpful for some careers. This database is structured to provide background research for investors; however, the surveys do provide trend information for the industries included. The Industries tab at the top provides access to the Surveys, though you can also access Surveys by switching to Industry Survey under Resources in the Simple Search box.
Equal Employment Opportunity Data Tool: This is a special tabulation by the Census Bureau for other agencies (listed on the web site) based on 2006 - 2010 American Community Survey (ACS) data (access the 2000 EEO Data Tool here). "The EEO Tabulation serves as the primary external benchmark for comparing the race, ethnicity, and sex composition of an organization's internal workforce, and the analogous external labor market, within a specified geography and job category." For more information, click here for the 2006-2010 tool, or here for the 2000 tool. Data from the 2000 Tabulation and 1990 Tabulation are also available.
LearningExpress Library: This site provides a wealth of information about software and tech skills, improving workplace skills, and improving scores on occupation-specific tests. The Jobs & Career Accelerator combines everything you need for a successful job search into one easy-to-use online application, allowing you to match your skills and interests to various careers, or search for in-demand careers.
Bureau of Economic Analysis (BEA): The BEA provides a wealth of indsutry-level data and information, including industry economic accounts, which provide a detailed view of the interrelationships between U.S. producers and users and the contribution to production across industries. In addtion, data are provided about current and historical trends in GDP, employment, unemployment, as well as a variety of other metrics and indices by industry. Find industry data under the "Industry" and "Interactive Data" tabs.
Philip McDaniel
Contact Info
Davis Library Research & Instructional Services
Geographic Information Systems (GIS) Services
(919) 962-3788
Send Email